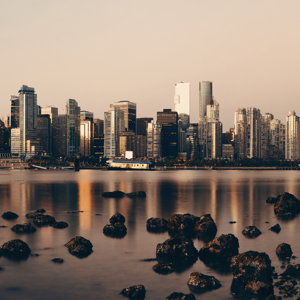 The world is re-emerging. Slowly but surely, Zoom calls have been replaced by coffee shop dates, and home workouts have moved from our bedroom floors to greener parks. The 'back to normal' so many of us craved has materialized (health-consciously, of course), and it's time to start doing the things we love…
Vancouver, known first and foremost for its beauty, is ready to join the party. Consistently ranked as one of the most desirable cities in the world to live in, this comes as no surprise when taking in the sights. Year-round entertainment is on offer, with each season bringing delightful additions to the lives of those that are blessed to live in Van. Come rain or shine, trust us Canadians to be out there. Here's a little breakdown of some of what you can find throughout the year:
SUMMER:
Generally sunny, with weather bouncing between 20ºC and 30ºC, expect to see sunglasses galore and the occasional hoodie that makes you gasp at how some people manage to wear that outside! This is the time to soak in what the city has to offer, and what better way than to participate in Vancouver's half-marathon. Appearing at the end of June, all the long days spent step-by-step chasing down those elusive daily steps will be worth it when you triumphantly cross the line. What better way to celebrate, too, than with a Parisian masterpiece hand-crafted in Kitsilano for your enjoyment? Au Comptoir dominates its space with masterful cuisine and is only one of many established restaurants on offer in the Vancouver summer.
Along the foodie side of things, you are spoilt for choice regarding summer markets. A plethora of options await you. My insider tip would be to check out the Richmond Night Market, the most extensive offering in the city. The city's biggest market is a memorable way to spend your time, dotted with pop-up food trucks, quirky fashion booths, and all-around entertainment. Check it out for yourself - they are open on weekends from April through to October. Some other truly notable mentions are the Vancouver Greek Summerfest held in July and Outdoor Summer Market #onRobson in August.
FALL:
Ahh, the season of toques and pumpkin spice lattes. Shades of brown and orange leaves scatter the streets. Bold pockets of color dominate the space, and I'm here for it! Vancouver once again has an abundance of options enjoy on your day off.
Stanley Park comes alive in the Fall. The weather is generally mild, with highs of 18ºC and lows of 9ºC, so outings to the best park in the city greet you with fresh air and stunning signs of the seasons progressing. Strolling along the seawall, expect to experience nature showing off.
Hosted in late September or early October, attending the Vancouver International Film Festival is an absolute must. With an international reputation, it showcases riveting artistic talent on the international stage. Storytelling is magnified here.
Are you really a Vancouverite if you don't scream 'til your voice is numb at the one and only Canucks? Rogers Arena's finest play a spectacular brand of hockey in the NHL, the world's premier league, and with an electrifying young roster coming forward onto the scene, memories are begging to be made in downtown Vancouver. When the city comes together, great things happen!
WINTER:
Ironically, the best place to be in winter is outside! With one of the mildest winters in Canada, you'll experience temperatures just above freezing. Snow can be seen for two and a bit months of the year, from just before Christmas until February.
It's great people watching with young and old jacketed up, wearing their warm fashion pieces, and seizing the day in this city. Weather does little to deter people from taking advantage of nature, and the stillness is food for the soul. Sitting Beneath a canopy of trees, with just the sound of snow crunching beneath your boots, one can sit for hours simply taking in the scenery. Cypress Provincial Park vibrates with the shine of winter, and many families and individuals can be heard trundling down the pathways wearing their favourite gloves.
Although not in Vancouver, Whistler's two-hour car trip is a must, in fact, I would recommend it as essential! The bustling town offers some of the best ski paths on Earth, and sitting on top of the mountain before dropping down on a run is surreal. There is no shortage of options, with outdoor enthusiasts seeing snowshoeing, snowboarding, tubing, and alpine skiing, among many other things. That said, anyone who has spent a day out on the slopes knows how tiring that can be! Right off the end of your run, you have an abundance of restaurants and pubs to select from, all offering mouthwatering selections of tasty treats and hearty meals to satisfy any craving you might have.
SPRING:
Hello Cherry Blossom season! These cool months sit around the teens, and the explosion of new colour and life adds extra spring to everyone's step.
Deep Cove, situated in North Van, is where nature lovers can experience sea lions and seals on the ground and eagles soaring overhead. A pro tip is to hire a kayak and get out on the water for yourself! Take a buddy with you and soak in the sea air while watching the sun sparkle on the water.
Before wrapping up just a few of the seasonal delights Vancouver offers, I would be remiss not to give Granville Island a nudge into the spotlight. Loved by tourists and locals aplenty, get that vacation feeling by buzzing around the streets and taking in the smells of fresh pizza and freshly-brewed coffee.
BC is genuinely blessed with inspiring opportunities we can take advantage of every day. Like always, I would love to answer any of your questions, and show you the home owner opportunities I have on offer. Who knows, perhaps very soon you may be living the life Vancouver has to offer?